Access Works
At Power Grid Civils Ltd we provide cost effective and efficient access solutions to complex and challenging ground conditions by arranging early contractor involvement to identify and provide support on achieving the optimum route for your project.
Our access works team are experienced in:
Pre-works surveys to determine access requirements for plant and equipment
The installation and removal of stone access tracks, floating roads, pile mats, crane pads
Development of trackway and bog mat solutions
Mechanised vegetation clearance including tree clearance and stump grinding
Installation of twin wall and box culvert
Installation of bridge abutments and bridges
We pride ourselves on being able to engage with landowners and our clients to value engineer the access works to improve installation time frames and costs.
Civil Engineering
At Power Grid Civils Ltd we have a vast amount of experience successfully delivering infrastructure projects such as roads, bridges, structures, utility installations and environmental improvement works. With our commitment to quality, safety and professionalism, we have delivered a comprehensive range of projects for both the public and private sector clients.
Our experienced civil engineering team work closely with our clients to deliver innovative and cost-effective solutions to meet their project delivery needs. We pride ourselves in the delivery of both minor and major civil engineering projects.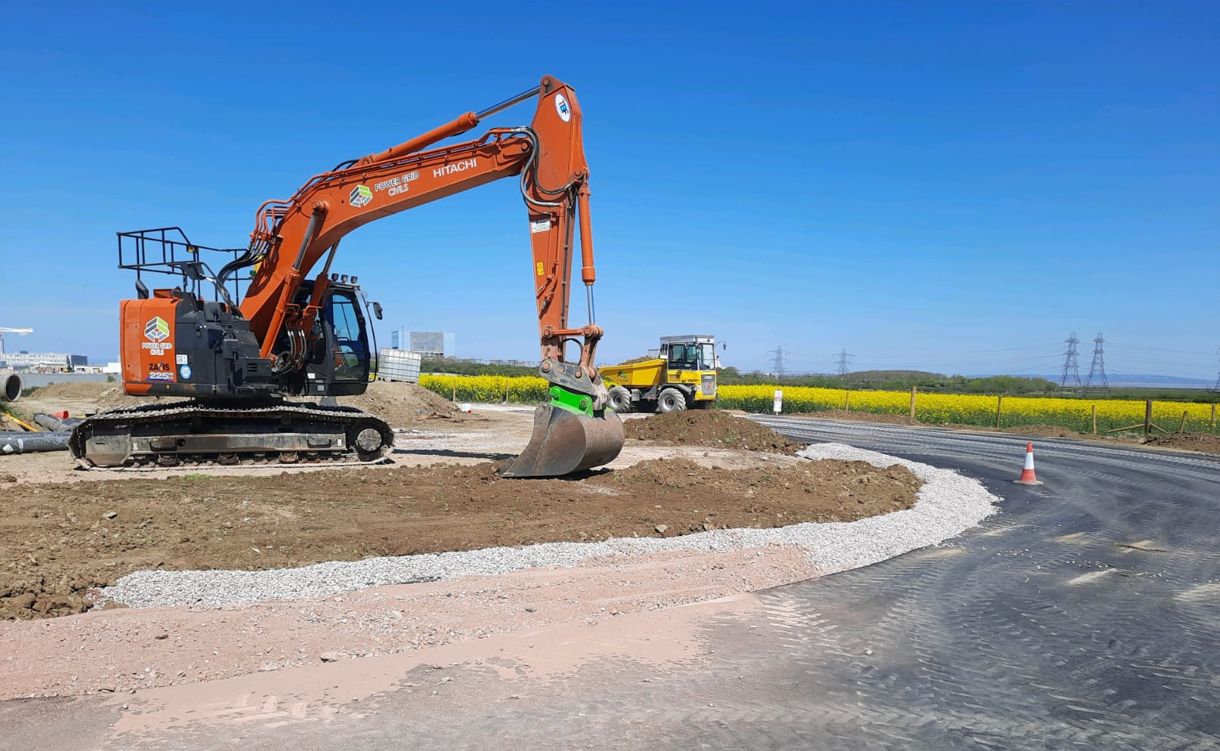 Intrusive Investigations
Our highly qualified and experienced team at Power Grid Civils Ltd will carry out all investigative work required on-site and deliver a detailed geotechnical report with professional recommendations for moving forward with your project.
Our specialist plant which includes Low Ground Pressure Excavators and Track Dumpers with Hiab attachments can achieve access to numerous difficult terrain locations that may not otherwise be accessible.
Over the past number of years, we have built strong relationships with a number of high-quality 3rd party testing companies offering a range of testing services, from ground to material and concrete core testing. We can provide a solution to any of your site investigation needs.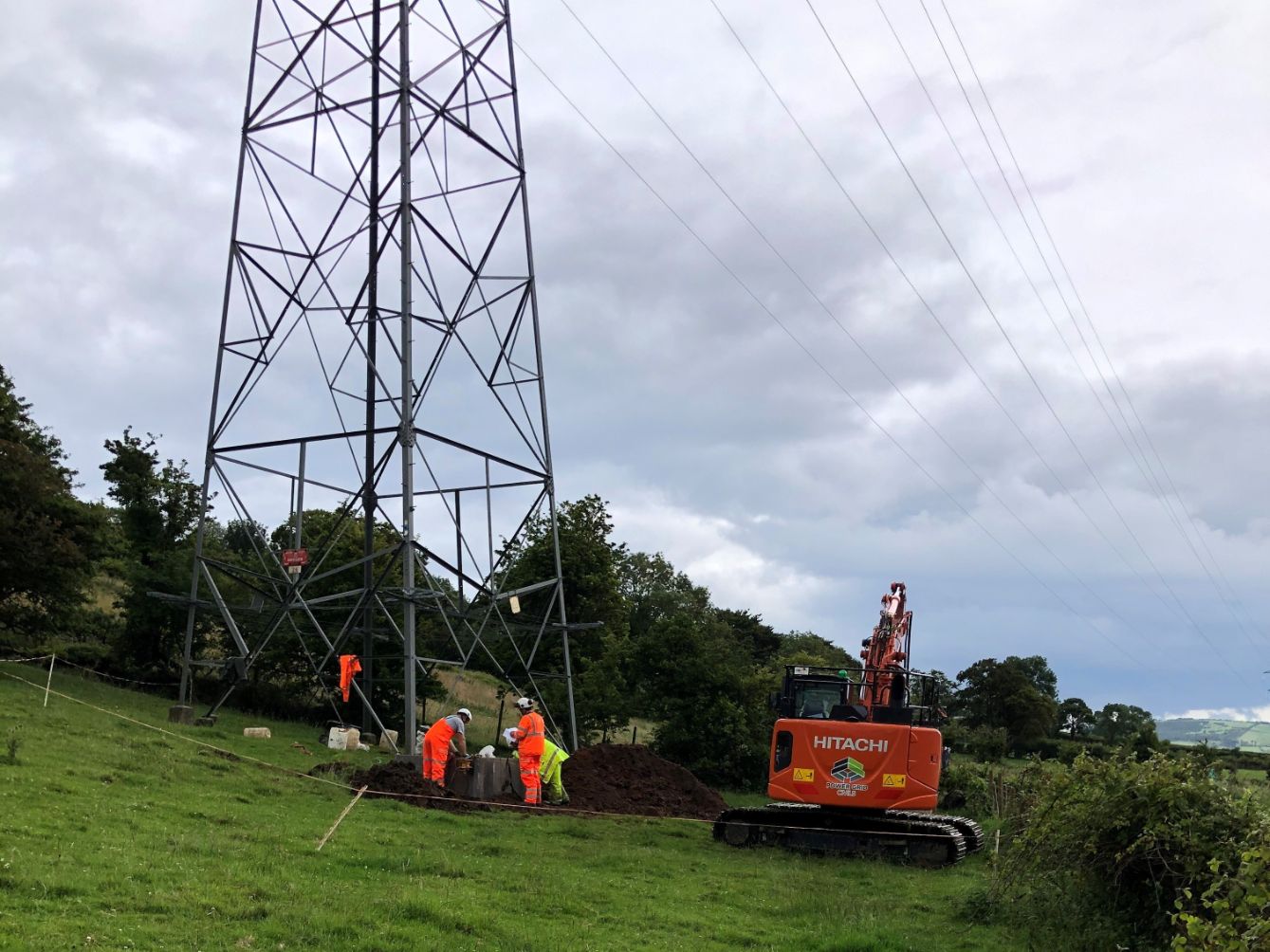 Renewables
At Power Grid Civils  Ltd we are passionate about the environment and renewable sources of energy. We aim to ensure that the projects we work on are sensitively designed and located appropriately, so they provide excellent returns for landowners, investors and clients alike.
Solar Farms
Solar farms enable access to the most abundant energy source available, the sun. Power Grid Civils possess the skills, knowledge, and experience to make our clients renewable energy goals a reality.
We always strive to ensure that our projects:
Meet best practice standards regarding biodiversity and ecology.
Cultivate good relationships with local communities
The projects we are involved with are thoughtfully designed so impact is at a minimum and agricultural use can continue.
EV chargers
With demand for EVs booming, we are committed to expanding and enhancing the EV network. We help our clients from initial conception to charging your vehicle.
Engage
Planning
Design
Build
Connect
Charging
With all our in-house divisions we can offer full turnkey packages.
Grid Connection
Power Grid Civils Ltd can provide a full turn-key service in all works relating to excavation, installation, backfill and reinstatement of LV, HV and EHV circuits up to and including 132kV for underground grid connection projects.
We supply and install all types of ducting, reinstatement, joint bays, chambers and crossings as required to deliver the project to the highest possible standard.
Transmission Tower Foundation – Refurbishment
At Power Grid Civils Ltd we have a wealth of experience delivering refurbishment projects focusing on over-head line (OHL) Tower Foundations, we can offer our clients a bespoke, specialist and industry leading service.
Our expertise has seen the delivery of projects ranging from break out, re-muffing and painting of existing OHL tower muffs to full foundation upgrades on OHL up to 400kV in both rural and urban settings.
We are a dynamic and innovative business, continually investing and adapting to the needs and challenges within our industry by ensuring we have the people, capabilities and resources to successfully deliver. One of the biggest challenges of our industry is aging infrastructures, we have successfully delivered projects that include upgrades on Overhead Lines constructed in the 1960's, offering our clients a full turn-key service from the designing of the piling install to the construction of the pile cap foundation with our experienced civils team.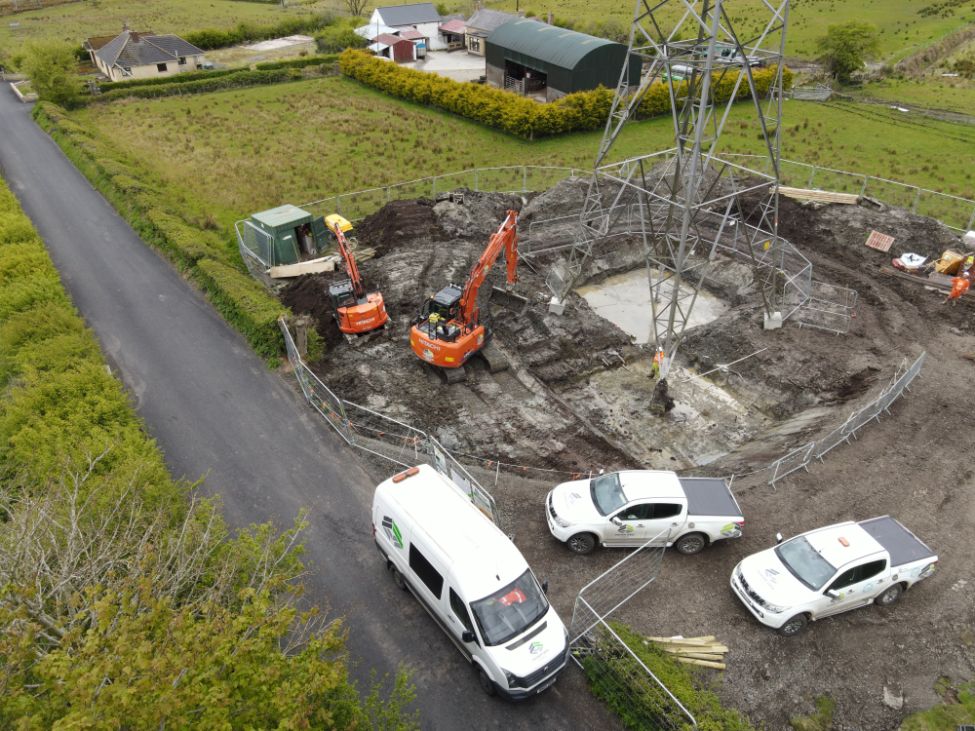 Transmission Tower Foundation – New Build
At Power Grid Civils Ltd our team supply and install the following services and foundation types for overhead lines of up to 400kV in both rural and urban areas:
Pad and Column Foundations
Piling and Pile Cap Foundations
Sealing End Platforms
Transformer Pad Foundations
Substation Pad Foundations
Turbine Foundations
Mono and H Pole Base Foundations
Anchor Blocks
Our experienced foundation installation teams have delivered works on projects from remote areas in the Highlands of Scotland to residential and commercial areas of West London. Our teams have extensive experience in foundation installations in varying ground conditions.
Design
Over the years we have built great relationships and partnerships with a number of designers with extensive experience in the Power and Infrastructure Industry.
These close relationships have enabled us to be in a position to advise, further develop and offer added value engineering to the early concept designs that our clients have undertaken.
These services include:
Access Road Designs and Specifications
Swept Path Analysis
Piling Design
Crane and Piling Platform Design
SUDS Design
Culvert Designs and Specification
Piling
At Power Grid Civils Ltd understanding and adapting to the needs of our industry is at the forefront of our business model. We offer our clients a bespoke solution to meet their project needs. In response to identifying some of the issues our clients have experienced in relation to the delivery of piling within their projects, we have taken on the management and delivery of a number of projects requiring piling.
We are highly experienced in the delivery of piling and can deliver this service in house and meet the specific needs of each individual piling contract.
Types of piling that we undertake include:
ODEX Piling
Mini Piling
Pre-cast Piling
CFA